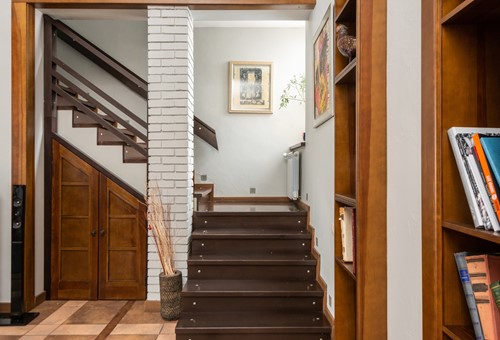 Photo by Max Vakhtbovych from Pexels

Whether you're a minimalist or a maximalist, you need storage. Designing your home with spectacular, well-designed storage nooks in mind can make your life so much easier. Consider building these storage solutions into your new home.
1. In-Wall Storage Solutions
Utilizing the space between studs to create built-in shelves or storage nooks is a brilliant option.
In-wall nooks beside a sitting area may eliminate the need for an end table.

In-wall niche shelves in a kitchen can offer a lovely way to display organized canisters, spices and other sundries worthy of keeping out in the open.

In-wall medicine cabinets and/or cleaning supply nooks in the bathroom take up less space, blend seamlessly into your decor and offer just that little extra space for necessities.
2. Under-Stair Storage
If you have a traditional staircase, you might just have plenty of space for storage underneath. This type of storage is perfect for larger bins of seasonal items you want tucked away, but easier to access and better-protected than the basement or attic.
3. Dormer/Attic Space Storage
In an attic space with steeply pitched walls, cabinets built along the lower edges of the room make it possible to capitalize on what would otherwise be awkward, unused space. And homes with architectural features like dormers offer another tremendous opportunity. Drawers can be built into the insides of many dormers, and window seats offer an aesthetically pleasing, cozy spot to relax with a generous amount of storage space underneath.
4. Harness the Power of the Built-In
Built-in shelves surrounding a fireplace, adorning a living area wall or encapsulating a TV/entertainment area can add incredible versatility. Consider cabinets across the bottom and open shelving at higher levels. The downside? You'll need a fairly good idea of your furniture arrangement options before settling on a built-in design. But built-ins tend to add value and style to a home, whether they're built into a sleek contemporary space or a more traditional one.
5. Pay Attention to Your Closets
Take the time to look up closet design and storage ideas. This will help you determine what type of storage solution would work best for your wardrobe and storage needs. Building shelving, appropriate-height rods and other storage features into your closets greatly increases your storage efficiency.
6. Make the Most of Your Garage/Outdoor Storage Space
Think beyond the vehicles you'll need to park as you plan your outdoor storage space. An attached shed, built-in garage shelving and cabinets might be the solution for storing your yard tools and outdoor recreational supplies. Look into slat-wall garage storage options or ceiling-mounted storage accessories to make the most of your garage space.
7. Consider Fold-Up Furniture
In some homes, a fold-down desk or work surface can transform a space into a multi-use area that eliminates the need for extra furniture and streamlining storage needs. Many Murphy beds and folding desks incorporate attractive shelves on either side for storage. It might be nontraditional, but it's a solid option when you're trying to capitalize on space.